\
Cooter is a minor character in Clarence.
Appearance
He wears a dark hoodie and dark pants. He has a scar on his eye similar to Joshua, and has ginger hair in a similar style that Clarence has. He either has an heterchromic eyes, due to being mismatched, His head shape looks similar to Sumo's but with a different nose.
Episode Appearances
Gallery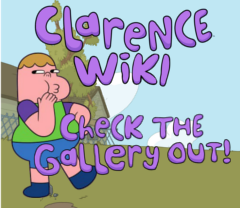 The gallery for Cooter can be found in Cooter/Gallery.
Trivia
It Is unknown how Seabass and Cooter met Sumo.
It is very like that Cooter and Seabass are just their nicknames.
Cooter has a similar sounding Southern accent to that of Stinky Peterson from Hey Arnold!.
Ad blocker interference detected!
Wikia is a free-to-use site that makes money from advertising. We have a modified experience for viewers using ad blockers

Wikia is not accessible if you've made further modifications. Remove the custom ad blocker rule(s) and the page will load as expected.