Claw Machine is the 9th short of Clarence (series).
Synopsis
At the Pizza Swamp arcade, Clarence convinces passerby Vu to use his skills to free Clarence from the claw machine.
Characters
Gallery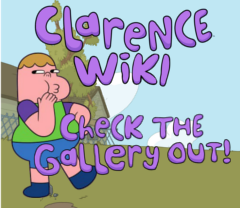 The gallery for "Claw Machine" can be found here.
Trivia
A Finn plush can be seen aside by Clarence. There is a Catbug from (Bravest Warriors) plush as well.
This is the first short or episode to have less than 4 characters total.
This is the last short to used the same title card as the ones in the Season 1 shorts.
Video
TBA
Reference
Ad blocker interference detected!
Wikia is a free-to-use site that makes money from advertising. We have a modified experience for viewers using ad blockers

Wikia is not accessible if you've made further modifications. Remove the custom ad blocker rule(s) and the page will load as expected.