Clarence Wendle is the titular character of Clarence. He is an optimistic boy who loves to do whatever he can to make the world a better place. He is voiced by Spencer Rothbell. 
Personality
Clarence is the main character of Clarence. Clarence's distinct perspective can transform any circumstance, however mundane, into the best day ever! His beliefs, outlook and experiences are all uniquely his own. Clarence leads with his heart, reacting to life with unfailing excitement and enthusiasm. He values his friends more than gold. In Pretty Great Day with a Girl, he is shown to be friends with everybody in Aberdale except Victor. Clarence loves everything because to Clarence, everything is amazing. He is most definitely the emotional third of this trio of friends. Despite all this, he's not very bright. It has been shown multiple times that his optimism also transforms him to a dimwit. In Average Jeff, it shown that he scored no only high crayon, he's the lowest, implying that his stupidity lead him up to this, however due to his habits and his describe stupidity.
Appearance
Clarence is a very chubby kid with thick arms, blond hair, two front teeth, and pink skin (Except on the shoulder and the torso is bright yellowish-apricot, where his clothes mainly covers them). He also wears a neon green T-shirt with purple sleeves, light blue shorts, and dark blue boots.
Episodes
Clarence has been in all episodes, including shorts (Excluding Have a Ball), so far due to his title character for the most main appearances.
Comics/Books
As the same with episodes, he also appears in comics and books based on his name title.
Shorts
Crossover
Mentioned/Cameo
---
Relationships
Gallery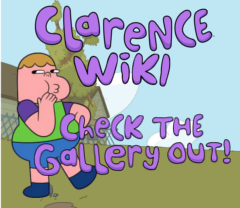 The gallery for Clarence can be found here
Links to Other Galleries
Trivia
Ad blocker interference detected!
Wikia is a free-to-use site that makes money from advertising. We have a modified experience for viewers using ad blockers

Wikia is not accessible if you've made further modifications. Remove the custom ad blocker rule(s) and the page will load as expected.