Clarence Dollars are Clarence's custom form of a money. It first appeared in "Clarence's Millions". He will only give them out to students that he personally thinks deserves them. It is one of two custom forms of dollars, the other being "Belson Bucks" by Belson Noles.
Appearance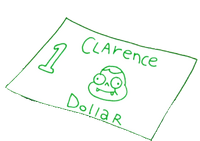 Clarence Dollars are generally the size of a regular dollar, drawn sloppily in green crayon. They have Clarence's name at the top, a number 1 on the left and right, Clarence's face in the middle with a circle drawn around it, and the word "Dollar" at the bottom. It has a green outline around it.
Appearances
Season 1
Shorts
Ad blocker interference detected!
Wikia is a free-to-use site that makes money from advertising. We have a modified experience for viewers using ad blockers

Wikia is not accessible if you've made further modifications. Remove the custom ad blocker rule(s) and the page will load as expected.