Clarence #4 is the forth and last issue of the four part Clarence comic. It came out on September 9th, 2015.
Synopsis
During a neighborhood BBQ Clarence, Jeff, and Sumo find an empty refrigerator box on the sidewalk that they turn into a teleporter!
Characters
Major characters
Minor characters
Gallery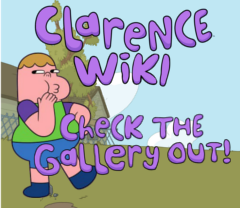 The gallery for "Clarence - Issue 4" can be found here.
Ad blocker interference detected!
Wikia is a free-to-use site that makes money from advertising. We have a modified experience for viewers using ad blockers

Wikia is not accessible if you've made further modifications. Remove the custom ad blocker rule(s) and the page will load as expected.