"Wow, this feels weird"


Please note that if this is added to a article with no connection to the episodes, it is considered Non-Canon.
Clarence #2 is the second issue of the four part Clarence comic. It came out on July 8th, 2015.
Synopsis
When a thunderstorm ruins the class field trip to the Riptide Ranch water park, Clarence, Jeff, and Sumo will have to make their own fun in the movie theater next door.
Characters
Major characters
Minor characters
Gallery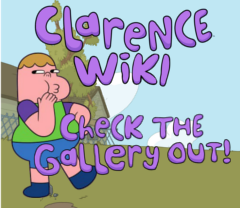 The gallery for "Clarence - Issue 2" can be found here.
Trivia
In this issue, Joshua looked normal and fine. It could be this take place before "Nature Clarence" or this series takes no part in the show.
Ad blocker interference detected!
Wikia is a free-to-use site that makes money from advertising. We have a modified experience for viewers using ad blockers

Wikia is not accessible if you've made further modifications. Remove the custom ad blocker rule(s) and the page will load as expected.