Clarence: Getting Gilben is a graphic novel of Clarence (series).[1]
Synopsis
Its not just your average night at the drive-in theater when Clarence witnesses a kidnapping!
It's just another movie night at the local drive-in theater when Clarence witnesses his classmate, Gilben, get taken by something he just can't explain. With the help of his best friends, Jeff and Sumo, Clarence sets out to to unravel the mystery and get Gilben back! Hopefully, he won't miss the whole movie in process...[2]
Characters
Minor Characters
Gallery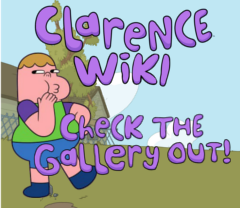 The gallery for "Clarence: Getting Gilben" can be found here.
Trivia
The novel heavily focuses on Gliben, based on his name of the novel's title.
In this novel, it revealed that Ms. Baker had a sister as her sister had mentioned about that she should've worked for teaching like her sister did.
References