Clarence: Getting Gilben is a graphic novel of Clarence (series).[1]
Synopsis
Its not just your average night at the drive-in theater when Clarence witnesses a kidnapping!
It's just another movie night at the local drive-in theater when Clarence witnesses his classmate, Gilben, get taken by something he just can't explain. With the help of his best friends, Jeff and Sumo, Clarence sets out to to unravel the mystery and get Gilben back! Hopefully, he won't miss the whole movie in process...[2]
Characters
Minor Characters
Gallery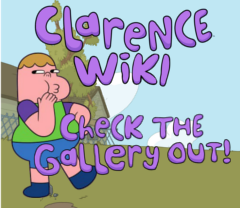 The gallery for "Clarence: Getting Gilben" can be found here.
References
Ad blocker interference detected!
Wikia is a free-to-use site that makes money from advertising. We have a modified experience for viewers using ad blockers

Wikia is not accessible if you've made further modifications. Remove the custom ad blocker rule(s) and the page will load as expected.