"Clarence's Millions" is the fifth episode in Season 1 of Clarence.[1]
Synopsis
Clarence creates his own form of currency causing the school to be turned upside down.
Plot

The Tale of The Quirksons as Clarence and Sumo were having a rubber band war. It interrupted her lesson, which cost them each a buddy star (Clarence was left with one buddy star and Sumo was left with negative five buddy stars.) In the hallway Breehn, Blaide, Dustin, Courtlin and Darlie

So he then created his very own set of Clarence Dollars. The next day he handed them out (giving Crendle a dollar for showing up, giving Marlie with a matching teddy bear T- shirt and backpack, and giving Nathan a dollar for trying his best.) Ms. Baker said that he can't give them out if someone didn't achive in something. Jeff agrees, and Ms. Baker thanked him. At lunch,

Ms. Baker said he shouldn't reward people for bad things. But Clarence says that Clarence dollars are for everybody. That night, Clarence has three nightmares about his currency, and the next day everyone (except for Clarence, Jeff, Breehn, Nathan, Dustin and a kid Clarence saved from a bully earlier) have lost their minds and fight over the Clarence Dollars. Jeff and Clarence devise a plan to dissolve the madness.  So they go to the copy room and copy a bunch of Clarence Dollars, and handed them out.



Just then, a kid explained a deck of cards called, "Tappy Cards" from his uncle in California. (A reference to Pokémon.) The kid said to win, you have to "Buy Them All!" but with real money, not Clarence Dollars. Everybody dropped their Clarence Dollars and ran out of the room. Clarence and Jeff walked down the hall and saw Belson with a bunch of dollars in his hands. Belson calls the dollars Belson Bucks. Clarence said that everybody is into Tappy Cards, and then Belson drops his dollars in dissappointment. Sumo then comes by and says he has freezy pops, he paid for with all his Clarence Dollars before the crash. Jeff wondered who would want that many Clarence Dollars, and then it reveals Chad, rolling around, laughing in piles of them.
Characters
Minor Characters
Errors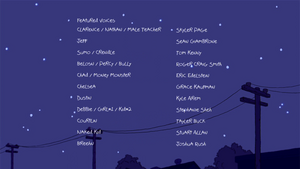 Ms. Baker gives Sumo negative 5, later on, it changes to negative 4.
The kid with the Tappy Cards is labeled as "Naked Kid".
Belson is listed as Belosn in the credits
It is unknown how Belson got many buddy stars in the buddy stars list. It should have been Jeff.
Gallery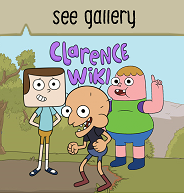 The gallery for Clarence's Millions can be found here.
Transcript
The transcript for Clarence's Millions can be found here.
Clips
References