Chelsea Keezheekoni is a supporting character in Clarence who made her debut in the "Pilot"; her first speaking role is in "Clarence's Millions."
Biography/Personality
Chelsea is in the 4th grade and is one of Clarence's classmates, making her about 9 years old. Chelsea is the second-highest scoring student in the class (behind Breehn).  She could be considered a "tomboy" and tries to join Clarence, Jeff and Sumo's guy's club.  Taller than most of her classmates (With an exception for Amy,Nathan, and Try, who are among the most tallest), with an obsession with creepy stuff, Chelsea gives Sumo a run for his money when the two "battle" to see who can gross the other out first (Too Gross For Comfort). The battle ends in a humorous tie when Chelsea and Sumo both think of the same gross thing to do - kiss. The two open their eyes and, in disgust, run away from each other. Chelsea is best friends with Alison. Armed with a morbid sense of humor and blunt honesty, Chelsea is the kind of girl to speak her mind. Her teasing scares Clarence and Jeff but is a soothing balm for Sumo. Chelsea loves creepy and weird things.
Appearance
Chelsea has brown skin and a ginormous bush of dense brown hair. She also has buck teeth with braces, though her front two teeth are fake. She wears a purple turtle neck, a light green skirt (or possibly undershirt), pastel green leggings and Mary Jane style dark green shoes.
Episodes
Season 1
Season 2
Season 3
Shorts
Comics
Gallery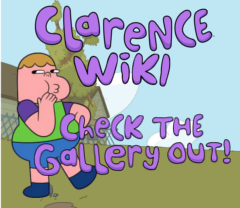 The gallery for Chelsea Keezheekoni can be found here.
Relationships
Trivia
Ad blocker interference detected!
Wikia is a free-to-use site that makes money from advertising. We have a modified experience for viewers using ad blockers

Wikia is not accessible if you've made further modifications. Remove the custom ad blocker rule(s) and the page will load as expected.