The Cashier is a minor character in Clarence. She is a cashier at Rough Riders Chicken.
Appearance
She wears an Rough Riders Chicken uniform, which consists two colors (Red and Yellow), she also has brown skin, black curly shouder-height hair.
Personality
In "Fun Dungeon Face Off", she is impatient when Jeff kept asking to not add a burger and the toy he wanted. Her reaction is similar like this in "Lizard Day Afternoon" when Clarence and Sumo was riding the sign and she repentantly told them to get off until she gave up and leaved them alone.
Episode appearances
Gallery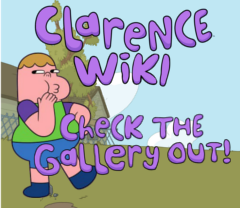 The gallery forCashier can be found here.