Candice is a minor character in Clarence (series).
Appearance
She appears a bit chubby, her fur consists three colors, dark and light gray and black, most of it are mainly stripes.
Description
She seem to be more rather neutral and she often bites mostly Sumo and Mel, mostly has no qualms on doing so.
Relationships
Sumo/Mel
To Sumo when he founded her before during the midst of storm, Sumo tried hiding her from Mel, to almost most of the time, she winds up escaping.
At first Mel disliked her despite of being a rodent and for her constant biting on him, to the point where he did not considered her as family member, but when Sumo showed disappointment towards Mel, to the point Sumo would not listen to him at all, until when at one night, when Sumo escaped to go save her when a huge wind blew both, it led her to use her teeth to hold on Sumo's shoe.
Episodes
Gallery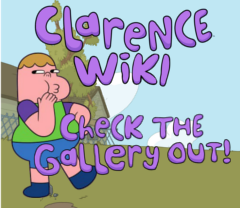 The gallery for Candice can be found here.
Trivia
Despite of her, appearing in 4 episodes of the miniseries, it is unknown to whatever happened to her, following after Flood Brothers.