Camden is a minor character in Clarence. He first appeared in "Money Broom Wizard", he also was camping with his father in "Where The Wild Chads Are"
Appearance
Camden is a ginger haired boy. He has a purple shirt, purple pants, purple boots and buck teeth. His big, droopy cheeks are used for humor. He has a deep, nasally voice. Camden seems to want to do right, as his father encourages, and seems to adhere to rules and regulations. He also seems to have balloon cheeks since they were easily deflated by minor things.
Episodes
Season 1
Season 2
Short
Gallery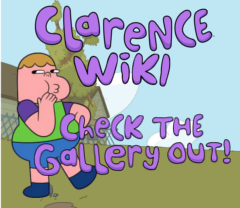 The gallery for Camden can be found here.
Trivia
Ad blocker interference detected!
Wikia is a free-to-use site that makes money from advertising. We have a modified experience for viewers using ad blockers

Wikia is not accessible if you've made further modifications. Remove the custom ad blocker rule(s) and the page will load as expected.