Brad "Bradster" is a minor/background character in "Clarence (series)", he first appeared in "Goose Chase"
Appearance
He has medium yellow blond hair, a cleft chin, and appears to be somewhat wide and chubby by the lower torso and bottom, he wears a blue headband on around his forehead, a gray sports shirt with red maroon stripes, a red maroon shorts with a small gray stripe with the his name "Bradster" appear on the back of his shorts and wears white shoes with socks.
Mostly for his roles is solely on jogging most of the time while basically phone calling his friends in a various times.
Episodes
Gallery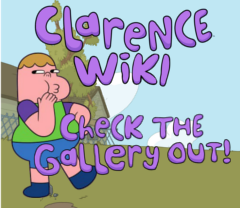 The gallery for "Bradster" can be found here.
Ad blocker interference detected!
Wikia is a free-to-use site that makes money from advertising. We have a modified experience for viewers using ad blockers

Wikia is not accessible if you've made further modifications. Remove the custom ad blocker rule(s) and the page will load as expected.