Belson Noles is a supporting character and a antagonist in Clarence. Belson is a bully who's more likely to throw out a sarcastic quip than a punch. A spoiled rich kid, Belson secretly likes Clarence, although he's never admit it.
Appearance
Belson is a short with bushy brown hair, a round body and wears a red shirt and blue shorts, along with dark navy shoes. He has a unibrow and a long pinkish-orange nose under it.
Personality
Belson is usually very rude and spoiled, especially with Clarence and his mother, Cynthia. He'll always try his best and do anything to act cool in front of his friends. In majority of the time, he usually alone, playing with his portable gaming device and less likely around anyone else, including his friends., while most of the kids are less likely to like him due to his personality, could be the reason why, while for Clarence, would consider him a friend than anyone else.
Episodes
Season 1
Season 2
Season 3
Shorts
Comics/Books
Games
Relationships
Gallery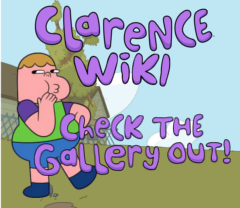 The gallery for Belson can be found here.
Trivia
Ad blocker interference detected!
Wikia is a free-to-use site that makes money from advertising. We have a modified experience for viewers using ad blockers

Wikia is not accessible if you've made further modifications. Remove the custom ad blocker rule(s) and the page will load as expected.