Balance is the 50th episode in Season 1 of Clarence.[1]
Synopsis
Ms. Baker introduces a new student, a short little kid with a hook for a hand named Balance. Clarence is pumped to have a new friend, despite Balance's gruff attitude and snarky jibes at the other kids. When Clarence discovers a disturbing secret about Balance, he and Belson team up to expose him for who he truly is.[2]
Plot
Balance shows up and shows everyone his hook, causing the entire class to be scared, except Clarence. Balance explores the corridor and meets Clarence, who explains some things, making Balance angry, he threatens him, but Clarence does not affect him. At lunchtime, everyone is somewhat concerned about Balance, except Clarence. When Clarence wants more children to meet Balance, he threatens Nathan, Mavis, Gilben and Belson, Belson insults Balance, provoking him to break his game, Balance explains to Belson that he will not be loved by anyone, Clarence gets upset with Balance and wants to accuse him, but Miss Baker takes him to get vaccinated. Clarence and Belson are willing to catch Balance. Later, Belson wants Balance to insult Clarence while recording everything, so that people find out, but Balance realizes that and pushes him, then the three (Clarence, Belson and Balance) begin to fight, Mr. Reese scolds the tree and Belson makes him to listen the recording, but magically what sounds on the recorder is totally different from what Belson recorded. In the class, Balance cuts half an apple with Belson's face. Balance goes to the bathroom to remove his beard, but Clarence realizes that and goes to warn the teachers, however, Balance was already there giving a circus show to the teachers, Clarence wonders how he achieves it, at that moment Balance communicates with Clarence through the mind and explains about "The spirit world" suddenly, the circus leader arrives to take Balance, he tries to resist but collides with a locker and the leader takes him in a carriage . The carriage leaves, but quickly falls, leaving Balance in freedom, so, the episode ends.
Characters
Main Characters
Supporting Characters
Minor Characters
Errors
When Clarence wants Balance to make fun of him in the Cafeteria his Green Beans turn yellow for a brief second.
Reception
Some fans had negative reactions toward this episode such as Clarence and Belson getting in trouble and getting punished for trying to expose Balance (while he gets away with it) and for its confusing and out of nowehere ending.
Gallery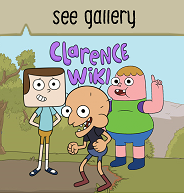 The gallery for Balance can be found here.
Transcript
The transcript for Balance can be found here.
Clips
References