Awesomest Battle in History is a online Clarence game. It was published by Cartoon Network.
Gameplay
It is about a battle between 2 affiliations, such as Superheroes (Green & Purple) and Vikings (Red and Blue), and takes place in many different Aberdale locations. There are weekly challenges and game modes (Capture the Flag, Ticket Collector, Star Defender, Free Play). The player only play as Clarence and can use coins to get upgrades and sidekicks. However, depending on the type of a event, not all players have access to all of the levels, because the teams has to have a certain amount of percentage to have the privileges to take over location nearby.
Characters
Locations
Gallery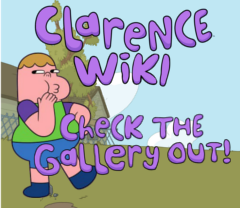 The gallery for "Awesomest Battle In History" can be found here.
Videos