Ashley is a background character in Clarence who had her first major role in "Clarence Gets a Girlfriend".
Biography
Ashley is a fourth grader in Ms. Baker's class and one of Clarence's classmates. During an art class at school, Clarence is doing tricks with a clay person her made and a toy motorcycle when he stumples upon Ashley's binder. He asks Ashley if he can do a backflip off of the binder. Ashley, who was making snowflakes out of paper, she replies yes and Clarence goes on his way. Meanwhile, the Ashley's friends say that she should go ask Clarence out on a date because they are "getting closer." Ashley sums up the courage to ask Clarence out on a date and he agrees. Later, Clarence tells Jeff and Sumo that he has a "girlfriend" and Sumo helps him become a gentleman for her.
Later, Clarence and Ashley meet at the Pizza Shack and have a "date". Unfortunately, they are not comfortable around each other and it just becomes awkward. Clarence ends up spilling his milkshake all over Ashley and she says they should just be friends. Clarence agrees and they leave the restaurant and go to the creek behind the school to catch frogs with Jeff and Sumo (who were watching in a booth a few tables over).
Appearance
Ashley is a skinny girl with freckled cheeks, black eyes, and buck teeth. She keeps her brunette hair in a messy bun. Ashley usually wears a pink t-shirt underneath a pair of denim overalls and dark blue leggings. She also wears red boots, similar to Sumo's. 
During her "date", Ashley wears a teal dress with matching hairbow and black Mary Jane shoes. The outfit soon becomes ruined after Clarence spilled her chocolate milkshake at the Pizza Shack.
Personality
Ashley is a timid, shy girl who easily succumbs to peer pressure from her friends. According to Sumo, she's a "nice girl" and is still friends with Clarence even if the first date went poorly.
In her debut episode, she is shown to be into arts and crafts and is very skilled with scissors, easily cutting out elaborately designed snowflakes out of paper while talking with her friends. She also isn't afraid to get down and dirty, as she's seen joyfully playing in the creek with Clarence, Jeff, and Sumo and handling frogs.  
Episodes
Season 1
Season 2
Season 3
Gallery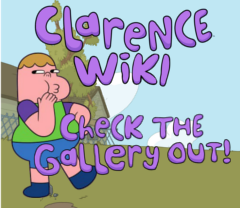 The gallery for Ashley can be found here.
Trivia
She has a flowery pink binder with her name on it.
Her personality is similar to Lila from Hey Arnold.