Amy Shtuzger is a minor character in Clarence whom is one of Ashley's friends.
Description
Amy is big for her age (approximately bigger than Try and Nathan). She has a curly, short pony tail, brown hair and speaks in voice similar to a male's voice. She wears a pink shirt with a Hello Kitty head on it, green pants, and purple shoes.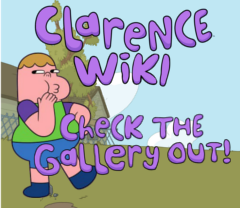 The gallery for Amy can be found here
Trivia
She is also very similar to Princess from Harvey Beaks and to Grenda from Gravity Falls, due to almost having the similar differences (e.g. has deep voices)
In "Suspended", it's revealed that she has a crush on Jeff, much to his dismay.
Her, Mavis, Shannon, and Percy's Parents (mom) are the only female characters voiced by men.