Alison is a minor character in Clarence. She is a student in Ms. Baker's class and is first seen in the "Pilot".
Biography
Alison is one of the fourth graders in Ms. Baker's class and one of Clarence's classmates. She is usually sitting in the second or third row in the classroom. Her best friend is Chelsea.
Appearance
Alison is a pale, thin girl with maroon hair that she keeps up in a high ponytail using a black hairband. She wears an orange dress with a white collar, yellow leggings, and purple boots.
Episodes
Season 1
Season 2
Season 3
Comics
Gallery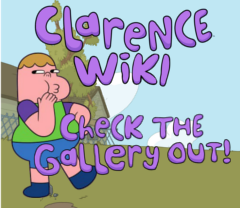 The gallery for Alison can be found here.
Trivia
Ad blocker interference detected!
Wikia is a free-to-use site that makes money from advertising. We have a modified experience for viewers using ad blockers

Wikia is not accessible if you've made further modifications. Remove the custom ad blocker rule(s) and the page will load as expected.