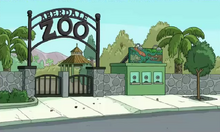 The Zoo is a minor location in Clarence. It is the local zoo of Aberdale.It first appeared in Zoo (episode).
Employees
Animals
Beetles
Bottlenose dolphins
Brown bears
Cheetahs
Crocodiles
Deer
Elephants
Flamingos
Fruit bats
Giraffes
Hippopotamuses
Kangaroos
Lions
Meerkats
Monkeys
Otters
Owls
Penguins
Rhinoceroses
Ring-tailed lemurs
Sea lions
Sloths
Spotted eagle rays
Tarantulas
Tigers
Turtles
Waterfowl
Zebras
Gallery
Ad blocker interference detected!
Wikia is a free-to-use site that makes money from advertising. We have a modified experience for viewers using ad blockers

Wikia is not accessible if you've made further modifications. Remove the custom ad blocker rule(s) and the page will load as expected.